envelopeSales@AusRadioComms.com.au phone07 32770237
ICOM IC-M330GE Top Performance Ultra Compact, Waterproof, VHF Marine Mobile Transceiver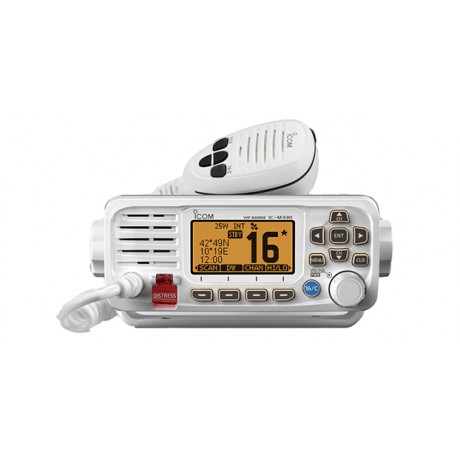 Call for Price: 07 3277 0237
The IC-M330 (black or white colour options available)
with its ultra-compact body (156.5 (w) x 66.5 (H) x
110.1 (D) mm) is the ideal Marine transceiver where
size is at a premium in the vessel.
Key features of this unit are:
Intuitive User Interface


A combination of the directional keypad and soft keys provides simple, smooth operation. Most used functions are assigned to soft keys for quick one push function access.
New Speaker delivers Dynamic, clear audio


A new speaker design delivers dynamic and clear sound over a wide bass and treble range. The IC-M330/G provides a distortion-free clear audio even at full volume.

Class leading receiver performance


The radio provides reliable communication in RF busy environment like a marina. (Selectivity and IMD: more than 70 dB).

Built in Class D DSC


The IC-M330 radio monitors CH 70 continuously, even while you are receiving another channel. DSC functions include: distress, individual, group, all ships, urgency, safety, position request/report, polling request and DSC test calls.

GPS Receiver Built-in


A built-in GPS receiver provides your location, bearing and speed by using information from GPS, GLONASS and SBAS. The acquired position information can be used for DSC calls.
As well as:
Easy-to-Read Full Dot-Matrix Display

AquaQuake™ Draining Function

IPX7 Waterproof Construction (1m depth for 30 minutes)

Made in Japan Quality and Reliability
There are no reviews for this product.